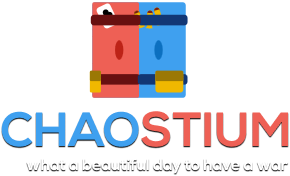 Chaostium
What a beautiful day to start a war, oh hey, haven't seen you coming,
Welcome to this (kinda) ENDLESS WARS also knows as, CHAOSTIUM
The rules are simple: YOU NEED TO MAKE THIS WAR LAST AS LONG AS YOU CAN
Game notes:
wasd to move
left click to shoot when you die you get switched to the other team
kill blues to levelup red kill reds to levelup blue
your weapon will change according to the team's level
if a blue gets to red territory or if a red gets to blue territory battle will end
your goal: prolong the battle as long as you can and witness the chaos
Special thanks to
DEAD for making the music of the game and general help
CxllMeMHD for making the sprites of the units and general help
Comments
Log in with itch.io to leave a comment.
Vote for DSf to be president of World. \(0.o)/
Kinda hard to find the balance, but once you do you can almost let it go and they'll wage war forever. Nice!
awsome game i like it lol